Automatic Sand Blast Machine, belt conveyor sand blasting system is suitable for sandblasting process of flat type, plate type, square type, profile and other special-shaped workpieces in big production, for example, flat stainless steel plate, glass plate, stone, phone shell, notebook mainboard, decorative pieces, aluminum sheet, etc.
The special V-belt conveyor design is for high-speed sandblasting of not large products, without sand accumulation. Manually feed the products and automatic conveyor, realizing a required big output.
The conveyor sand blast machine can be customized in different sizes to meet the demands of a variety of different shape workpieces to be sand blasted.
1. The belt speed of automatic sand blast machine can achieve frequency-controlled to match with sand blast requirements
2. The angle of each gun rack can be freely adjusted gun to achieve automatic frequency swing and point sandblasting, flexibility, wide applicability
3. Cyclone separation system, good dust separation effect and high, sand blasting efficiency;
4. Using advanced PLC control system, high degree of automation, good stability, low failure rate;
5. Nozzles in special high wear-resistant boron carbide material, long lifespan;
6. Independent cartridge dust removal system, dust extraction and ventilation effect is good; (optional: bag-type dust collector)
7. Abrasive recycling is helical conveying and pneumatic recovery combined in good recovery stability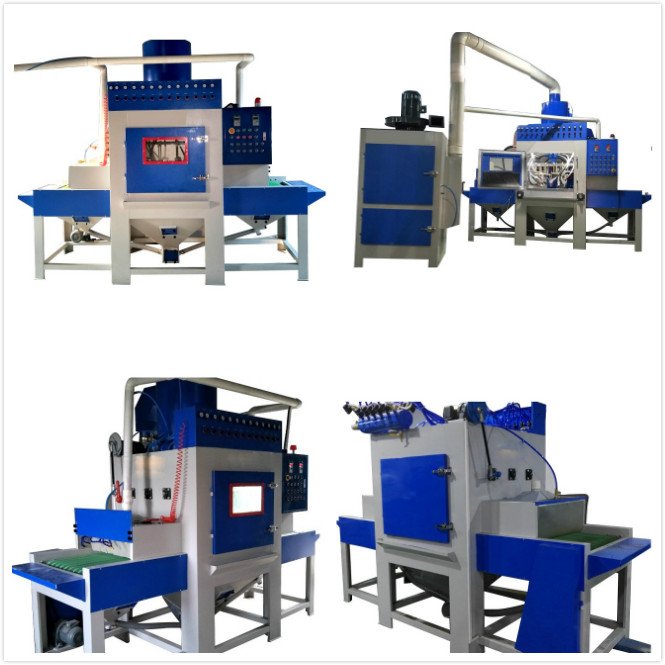 | | |
| --- | --- |
| Model | COLO-3409ZS |
| Outer Size | L3400mm*W900mm*H2680mm |
| Working Chamber Size | L900mm*W800mm*H1200mm |
| Size of Feeding Workpiece | W400mm*H300(no limit of length) |
| Dust Collector Cabin Size | L850mm*W850mm*H2200mm Fan motor: 5.5kw, 1set |
| Sandblasting Gun | 8 pcs(Boron Carbide Nozzle) |
| Cleaning Gun | 1 pc |
| Glass View Window | 1 set |
| Cyclone Separator | 1 set |
| Lighting Lamp | 2 pcs, anti-explosion, 20W |
| Conveyor Motor Power | 750W(speed adjustable) |
| Swing Motor Power | 400W(speed adjustable) |
| Conveyor | V-belt type, with screen mesh |
| Max. Loading Capacity | 90kg |
| Total Power | 7.5kw |